Preparation time: 10 minutes
Cooking time: 20 minutes
Quantity: 2 bowls
> INGREDIENTS:
For the watercress velouté:
1 parsnip
1 medium potato
1 bunch of watercress
1/2 onion
1 clove of garlic
300 ml of hot water
50 g non-dairy yoghurt or cream
1/4 tsp. ground nutmeg
Salt and pepper
For the toppings:
1 handful of sunflower seeds
1 handful of squash seeds
Fresh chives, chopped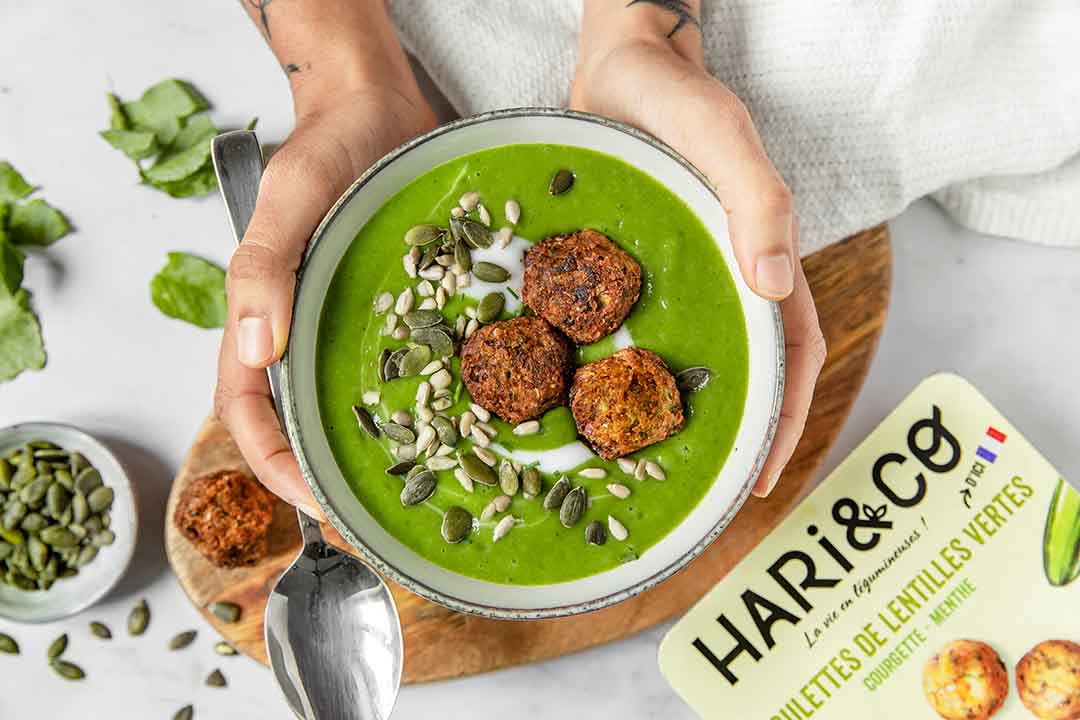 > PREPARATION:
Peel the parsnip and potato and cut into large cubes. Steam or boil for 20 minutes.
Meanwhile, wash de-stem the watercress. Mince the onion and garlic.
Heat the water in a frying pan and add the watercress, garlic and onion. Cook over medium heat for 5 minutes until the watercress has wilted.
Once all the vegetables are cooked, place them in a blender. Add hot water, non-dairy yogurt, nutmeg, salt and pepper. Blend until smooth and creamy. If necessary, add a little water to reach desired consistency. Keep warm.
Brown the HARi&CO Green Lentil Balls in a dry pan.
Serve the watercress velouté in bowls and garnish with chopped chives, sunflower and pumpkin seeds and HARi&CO Green Lentil Balls.
Recipe by Alice Pagès
Enjoy your meal!