Preparation time: 10 minutes
Cooking time: 20 minutes
Servings: 4 hot dogs
> INGREDIENTS:
Marinara sauce:
2 garlic cloves
1/2 onion
1 tbsp olive oil
800 g crushed tomatoes
2 tbsp tomato paste
1 tbsp balsamic vinegar
1 tbsp dried oregano
1/4 tsp salt
1/8 tsp ground black pepper
6 fresh basil leaves
Caramelized onions:
2 yellow onions
1 tbsp olive oil
2 tbsp water
1 tbsp balsamic vinegar
1 tbsp maple syrup
1 pinch of salt
Garnishes:
1 green pepper
1 red pepper
1 green onion
4 hot dog buns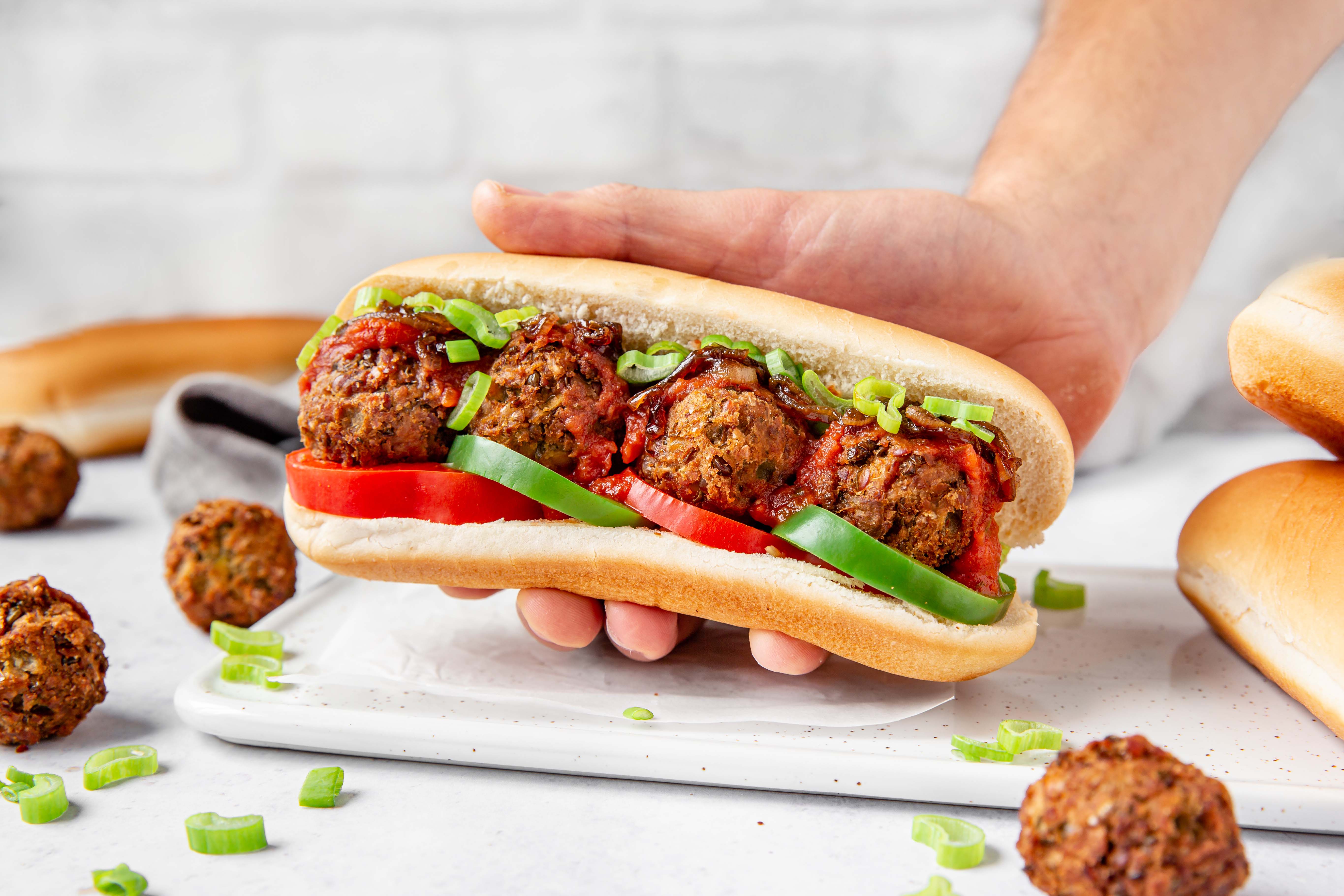 > INSTRUCTIONS:
Marinara sauce:
Peel and mince the garlic and onion. Heat the oil in a medium pan and sauté the garlic and onion over medium-high heat for 2 minutes until golden brown.
Add the crushed tomatoes, tomato paste, balsamic vinegar, dried oregano, salt and pepper. Stir to combine, cover and cook on medium heat for 10 minutes. Then uncover and simmer for 5 more minutes until the sauce is reduced. Add the basil leaves finely chopped, stir and remove from the heat. Taste and adjust the seasoning according to your taste. Set aside.
Caramelized onions:
Peel and chop the onions into slices. Heat the olive oil in a medium size non-sticky pan. Add the onions and let cook over medium heat for 10 minutes until the onions are soft, stirring periodically so they cook evenly.
Add the water, balsamic vinegar, maple syrup and salt to deglaze and cook for 2 more minutes until the liquid is evaporated and the onions are beautifully browned and caramelized. Remove from heat and set aside.
Garnished:
Wash, core and slice the peppers. Cook in a pan with a bottom of water for 5 minutes until just softened. Drain and set aside.
Cook the HARi&CO green lentil balls in a non-sticky pan without oil. Then add half of the marinara sauce, stir to coat the balls and cook for 2 minutes.
Cut the hot dog buns in half and stuff with cooked peppers and HARi&CO green lentil balls. Pour the remaining marinara sauce and top with the caramelized onions and chopped green onions.
Recipe by Alice Pagès
Enjoy your meal!