Preparation time: 10 minutes
Cooking time: 10 minutes
Quantity: 12 patties
> INGREDIENTS:
For the vegetable galettes:
2 carrots
2 medium potatoes
1/2 white onion
1/2 bunch of fresh parsley
50 g ground flaxseed
50 g oat flour
1 tsp. ground cumin
1 pinch of ground nutmeg
1/2 tsp. salt
125 ml non-dairy milk
Cooking oil
For the yogurt sauce:
3 tbsp. non-dairy yogurt
1 tsp. garlic powder
1 tsp. lemon juice
1 tsp. chopped chives
For the side: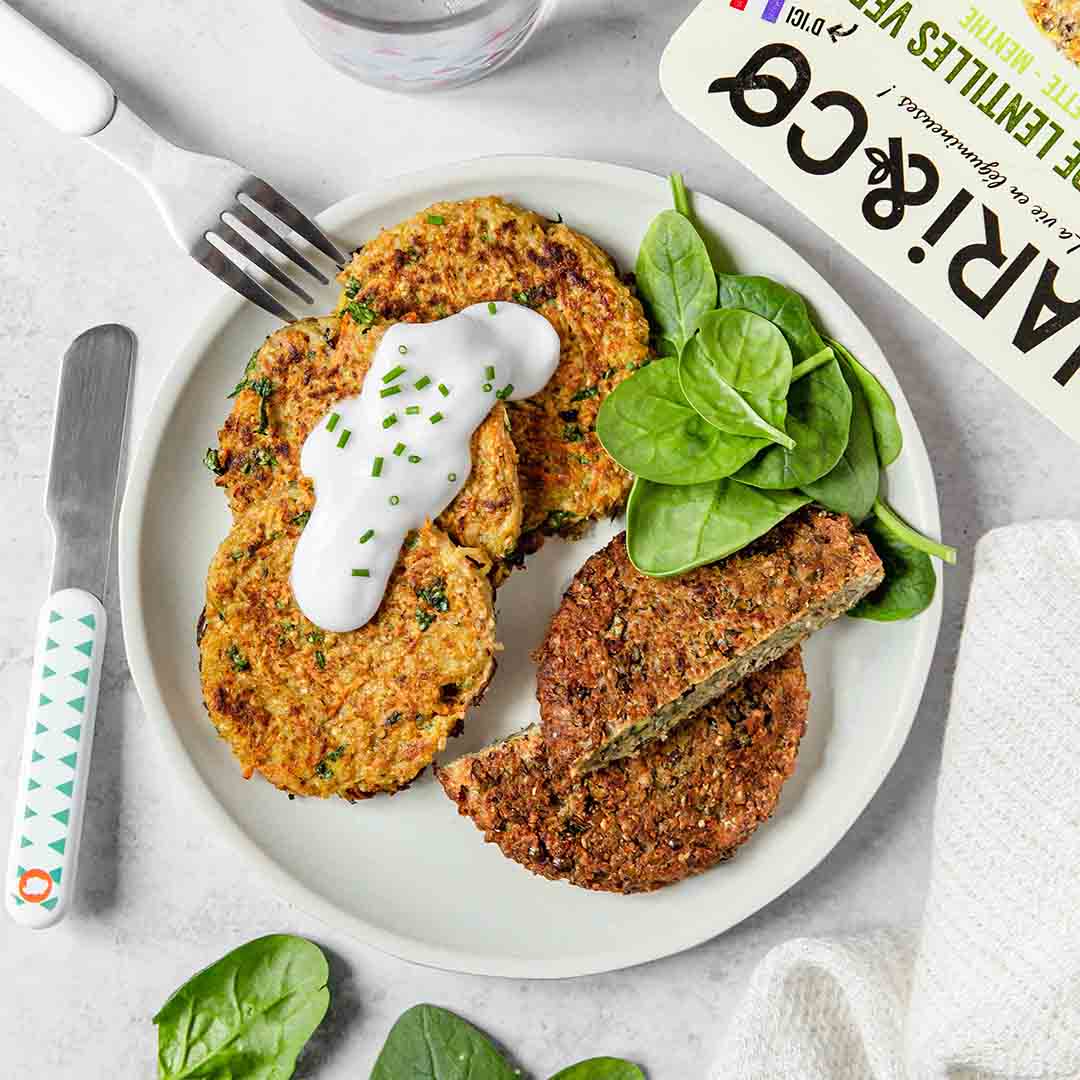 > PREPARATION:
Peel and finely grate the carrots and potatoes.
Finely chop the onion and the parsley.
Place the grated carrots and potatoes, onion and chopped parsley in a large mixing bowl. Then add the ground flaxseeds, oat flour, cumin, nutmeg and salt. Mix to incorporate all the ingredients. Then pour in the non-dairy milk and stir until smooth.
Heat 3 tablespoons of oil over high heat in a frying pan. Gently form the mixture into small patties using a tablespoon. Brown the galettes for about 3 minutes on each side, lowering the heat if they begin to burn.
Prepare the sauce by mixing all the ingredients in a small bowl.
Brown the HARi&CO Green Lentil Patty in a dry pan.
Serve the vegetable galettes on a plate topped with yogurt sauce and accompanied by the HARi&CO Green Lentil Patty.
Recipe by Alice Pagès
Enjoy your meal!