Preparation time: 10 minutes
Cooking time: 30 minutes
Quantity: 1-2 servings
> INGREDIENTS:
For the spring vegetables:
1 carrot
1 potato
1/4 white onion
1 tbsp. olive oil
1 pinch of nutmeg powder
Salt and pepper
100 g peas (fresh or frozen)
3 sprigs of fresh chervil
For the lemon sauce:
2 tbsp. plant-based yogurt
1 tbsp. lemon juice
1 tsp. maple syrup
Salt and pepper
Garnish:
80 g uncooked pasta shell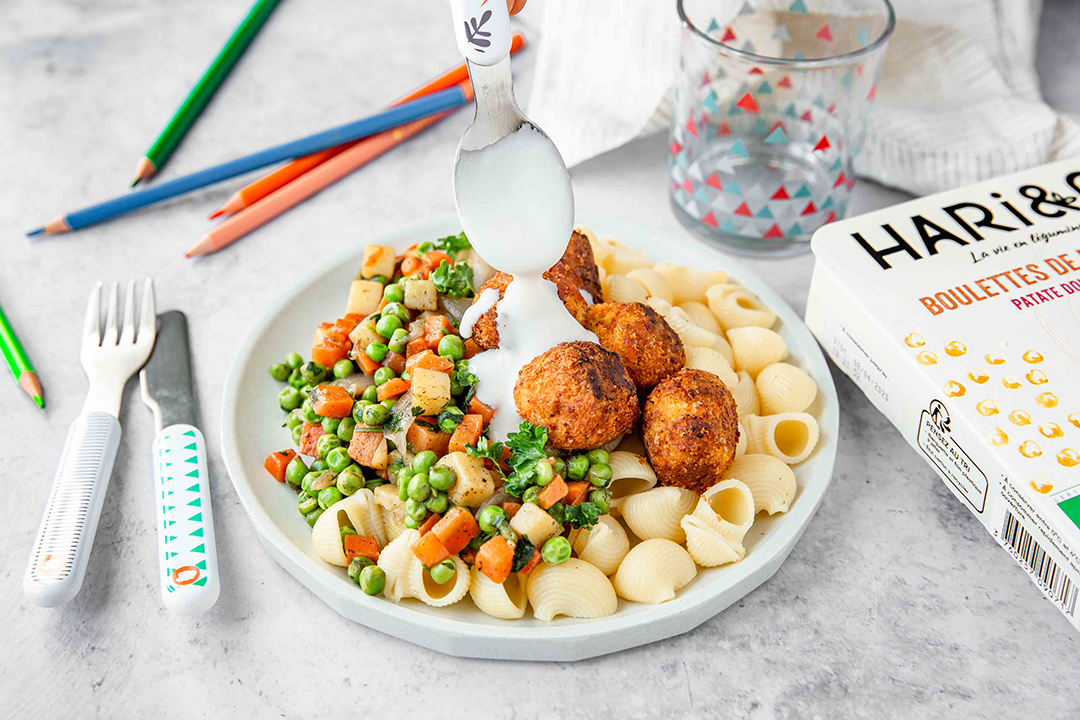 > PREPARATION:
Preparing the spring vegetables:
Peel the carrot and potato and cut into small cubes. Peel and slice the onion.
Heat the olive oil in a frying pan and sauté the onion, carrot and potato for 10 minutes until lightly browned.
Add 1 cup of water, nutmeg, salt and pepper, cover and simmer for about 15 minutes until the vegetables are tender.
Then add the peas and chopped chervil and cook for another 3 minutes.
Prepare the lemon sauce:
Mix all ingredients in a small bowl until smooth.
Assembly:
Cook pasta in boiling water according to package instructions.
Brown the HARi&CO chickpea balls in a dry pan.
Serve the spring vegetables with pasta, lemon sauce and HARi&CO chickpea balls.
Recipe by Alice Pagès
Enjoy your meal!