Preparation time: 10 minutes
Cooking time: 15 minutes
Quantity: 2 servings
> INGREDIENTS:
For the caramelized onions:
1/2 onion
1 tbsp. olive oil
1 tbsp. balsamic vinegar
1 tbsp. of maple syrup
Salt and pepper
For the roasted peas:
100g peas (fresh or frozen)
1 tbsp. olive oil
2 tsp. oy sauce
1 tbsp. chopped fresh parsley
Salt and pepper
For the mayonnaise:
4 tbsp. soy cream
1 tbsp. of mustard
2 tbsp. cider vinegar
6 tbsp. canola oil
1/2 clove of garlic
1/2 bunch of fresh chervil
A handful of baby spinach
Salt and pepper
For the burger:
2 burger buns
1 handful of spinach or arugula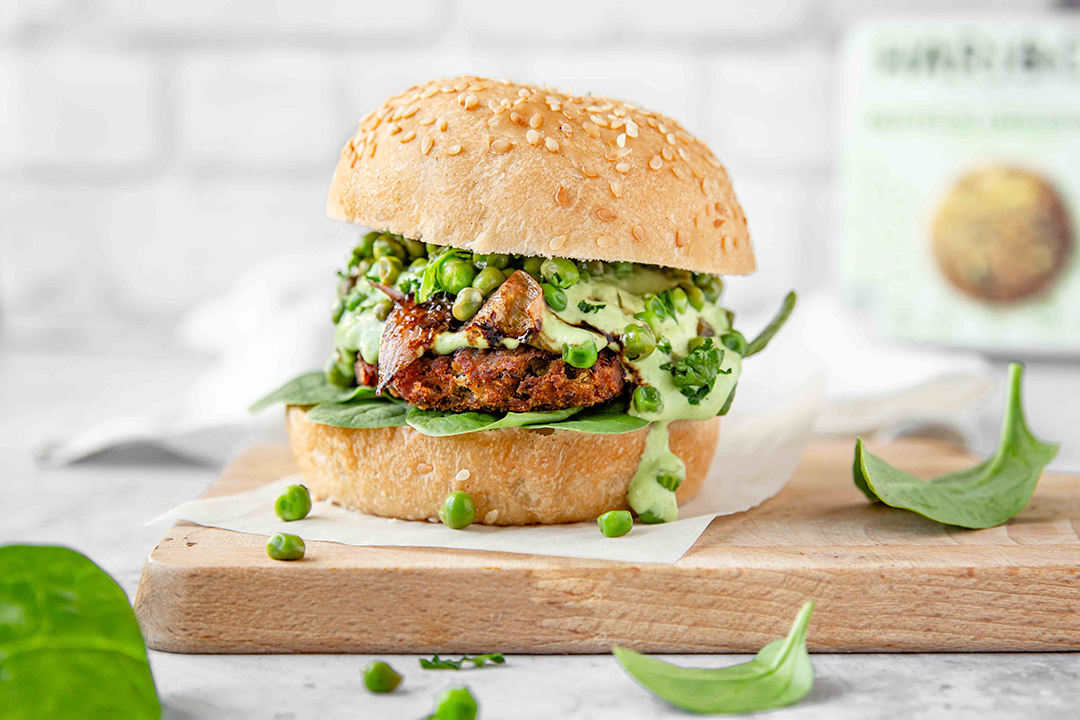 > PREPARATION:
Prepare the caramelized onions:
Peel and cut the onion into thick slices.
Fry the onion in a pan with the olive oil for 10 minutes over medium heat until it begins to wilt.
Then add the balsamic vinegar, maple syrup, salt and pepper, and simmer for a few minutes until the liquid has evaporated and the onions are caramelized.
Prepare the peas:
Heat the olive oil in a frying pan. Add the peas, salt and pepper, and sauté for 5 minutes over high heat until they are nicely browned.
Remove from the heat and add the soy sauce and finely chopped parsley. Mix and set aside.
Prepare the mayonnaise:
Place the soy cream, mustard, cider vinegar, salt and pepper in a measuring cup and blend thoroughly with an immersion blender.
Then while mixing, pour the canola oil into the cup. The mixture will immediately rise and thicken. Continue mixing until the mayonnaise is very dense (1 to 2 minutes maximum).
Add the finely minced garlic, chervil and finely chopped baby spinach. Blend to completely incorporate them into the mayonnaise.
Pour the mayonnaise into a jar and set aside in a cool place.
Assembly:
Brown the HARi&CO Green Lentil Patties in a dry pan.
Assemble the burgers. Cut the buns in half and toast them quickly in a toaster or oven. Top the bottom bun with a handful of baby spinach, a HARi&CO green lentil patty, caramelized onions, a spoonful of mayonnaise, and roasted peas and finally the top bun. Enjoy warm with a salad or fried potatoes.
Recipe by Alice Pagès
Enjoy your meal!