Preparation time: 10 minutes
Cooking time: 30 minutes
Quantity: 2 servings
> INGREDIENTS:
For the fragrant rice:
60g uncooked brown rice (about 200g cooked brown rice)
Zest of half a lemon
1 tbsp. chopped fresh chervil
4 pitted black olives
50 g non-dairy yogurt
1 tbsp. lemon juice
1 tsp. olive oil
1/2 tsp. garlic powder
1/2 tsp. ground cumin
Salt and pepper
For the asparagus:
8 green asparagus stalks
1 tbsp. olive oil
Salt and pepper
For the burrito:
2 large whole wheat tortillas
1 handful of baby spinach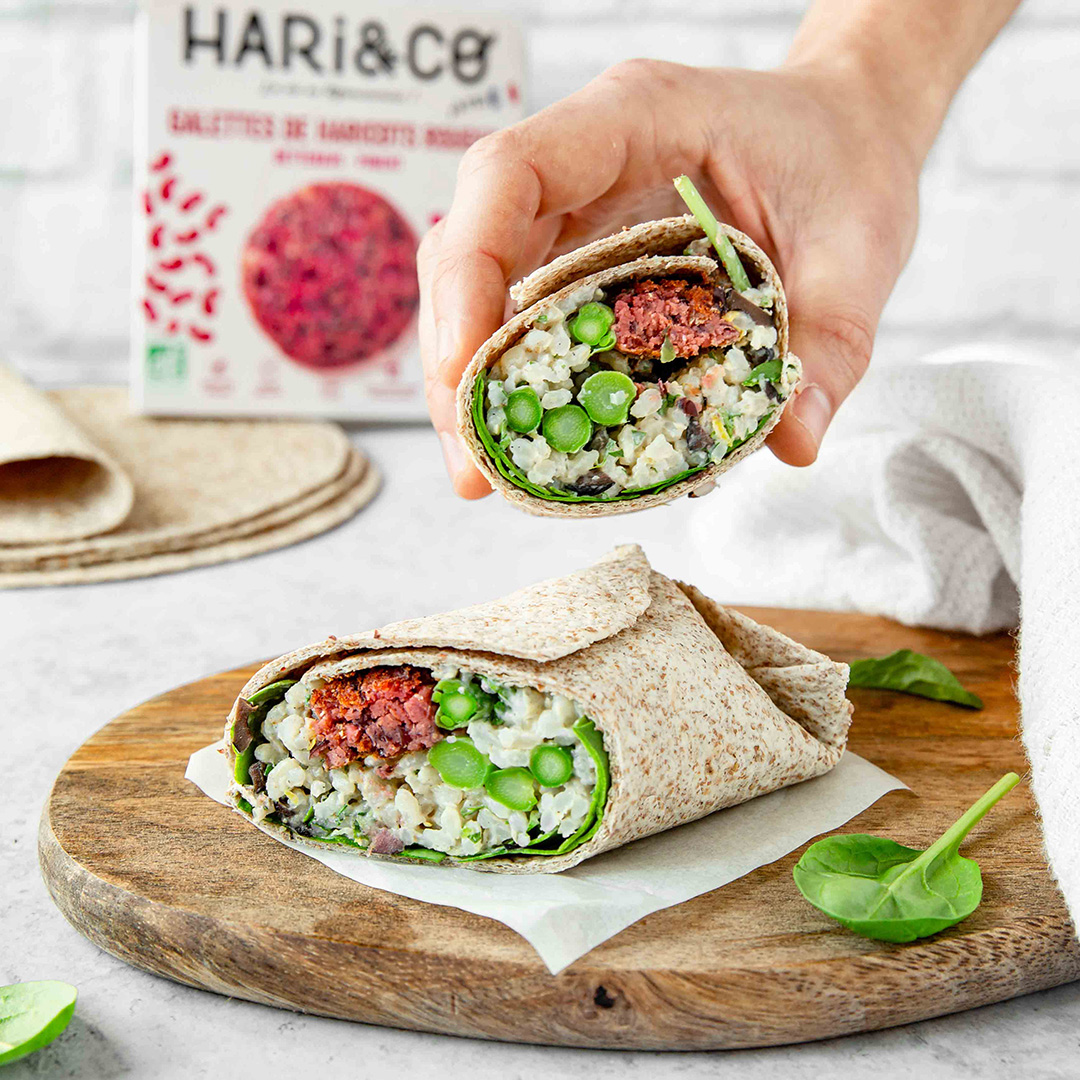 > PREPARATION:
Prepare the fragrant rice:
Rinse the rice and place it in a saucepan with twice its volume of water. Bring to a boil, then reduce the heat to medium, cover and cook the rice until the water is almost completely absorbed, about 30 minutes.
Drain and place the cooked rice in a bowl. Add lemon zest, chopped chervil, finely chopped black olives, non-dairy yogurt, lemon juice, olive oil, garlic powder, cumin, salt and pepper. Mix to coat. Set aside.
Prepare the asparagus:
Rinse the asparagus and trim the woody ends. If necessary, peel the stalks.
Cook the asparagus in a pot of boiling salted water for 4 minutes. Then drain and plunge them into a pot of cold water to stop the cooking and set their beautiful green color.
In a hot frying pan, fry the asparagus with the olive oil over high heat for 1 to 2 minutes, to lightly toast them. Season with pepper and salt.
Assembly:
Brown the HARi&CO Red Bean Patties in a dry pan.
Assemble the burritos. Lay a tortilla flat on a cutting board. Pile the baby spinach and the fragrant rice mixture in the center of the tortilla. Add 4 green asparagus spears in a row and a HARi&CO red bean patty cut into slices. Fold the edges of the tortilla tightly over the filling to form a compact burrito. Cut the burrito in half to serve immediately or wrap it in a sheet of parchment paper for later.
Recipe by Alice Pagès
Enjoy your meal!