Preparation time: 10 minutes
Cooking time: 1 hour
Quantity: 2 servings
> INGREDIENTS:
For the tian:
2 large tomatoes
1 zucchini
1 small eggplant
1 medium sweet potato
2 cloves of garlic
2 tbsp. olive oil
1 tbsp. of herbes de Provence
1 tsp. salt
For the side: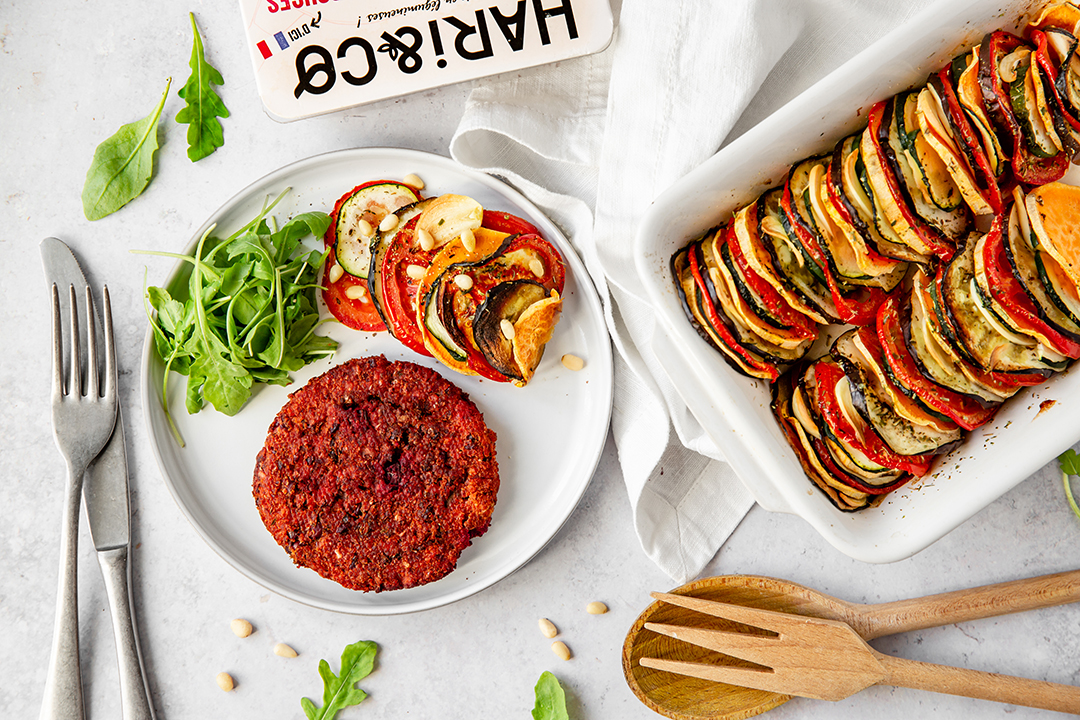 > PREPARATION:
Preheat the oven to 350°F and oil the bottom of a baking dish.
Wash the tomatoes, zucchini and eggplant, peel the sweet potato, and cut all the vegetables into thin slices. Peel and thinly slice the garlic.
Arrange the vegetable slices in the dish in neat rows, alternating between the different vegetables and nestling them closely together. Insert the garlic slices between the vegetable slices, spreading them evenly throughout the dish.
Drizzle the vegetables with olive oil and sprinkle with herbes de Provence and salt. Bake for about 45 minutes – 1 hour, until the vegetables are golden brown and tender.
In the meantime, brown the HARi&CO red  bean patties in a dry pan.
Serve the vegetable tian hot with freshly ground black pepper, accompanied with arugula and a HARi&CO red bean patty.
Recipe by Alice Pagès
Enjoy your meal!