Preparation time: 10 minutes
Cooking time: 30 minutes
Quantity: 1 serving
> INGREDIENTS:
For the millet salad:
70 g uncooked millet
30 g fennel
1/2 shallot
1 tsp. lemon juice
1 tbsp. olive or sesame oil
1 tsp. cider vinegar
Salt and pepper
10 g raisins
10 g crushed almonds
For the carrots:
2 carrots
1 tbsp. olive oil
1/2 tsp. sugar
1/4 bouillon cube
1 tsp. soy sauce
1/2 tsp ground cumin
1/2 bunch of fresh parsley
Salt and pepper
For the side: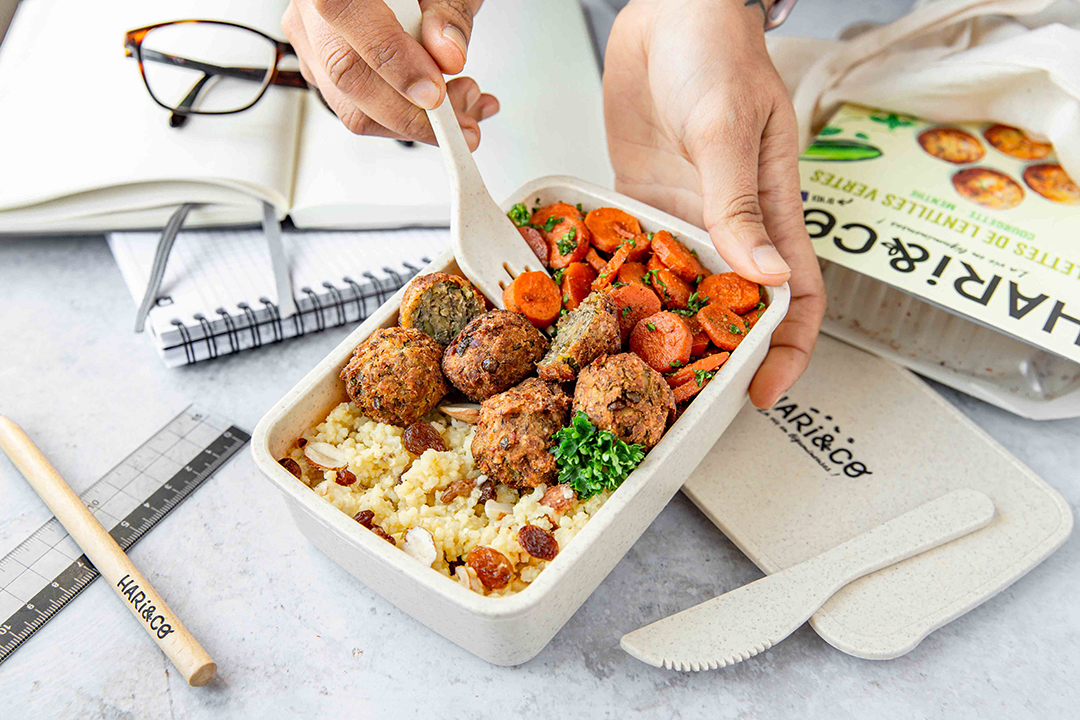 > PREPARATION:
Prepare the millet salad:
Rinse and place the millet in a saucepan with twice its volume of water. Bring to a boil, then reduce heat to low, cover and cook for about 20 minutes until all the water is absorbed.
Place the cooked millet in a bowl and add the finely diced fennel, chopped shallot, lemon juice, oil, vinegar, salt, pepper, raisins and crushed almonds.
Prepare the carrots:
Peel the carrots and cut into ¼ inch rounds.
Heat the olive oil and sugar in a frying pan. Then add the carrots, the crushed bouillon cube and a cup of water. Simmer uncovered for about 30 minutes until the carrots are tender, stirring occasionally. If necessary, add a little bit of  water during cooking.
When all the water has evaporated, add the soy sauce, cumin and finely chopped parsley.
Assembly:
Brown the HARi&CO Green Lentil Balls in a dry pan.
Serve the millet salad warm or cold with the carrots and HARi&CO Green Lentil Balls. Perfect for a healthy lunch!
Recipe by Alice Pagès
Enjoy your meal!