Preparation time: 15 minutes
Cooking time: 8 minutes
Quantity: 1 burger
> INGREDIENTS:
For the guacamole:
1/2 avocado
1 tbsp. lemon juice
1/2 tsp. ground cumin
Salt, pepper
For the coleslaw:
60 g red cabbage
1 tbsp. soy yogurt
1 tsp. olive oil
1 tsp. mustard
1 tsp. vinegar
A pinch of salt
For the ketchup sauce:
1 tsp. sugar
3 tbsp. of water
30 g tomato paste
1 tsp. vinegar
1/2 tsp. garlic powder
1/2 tsp. onion powder
A pinch of salt
For the burger:
1 burger bun
1 slice of tomato
2 slices of red onion
Baby spinach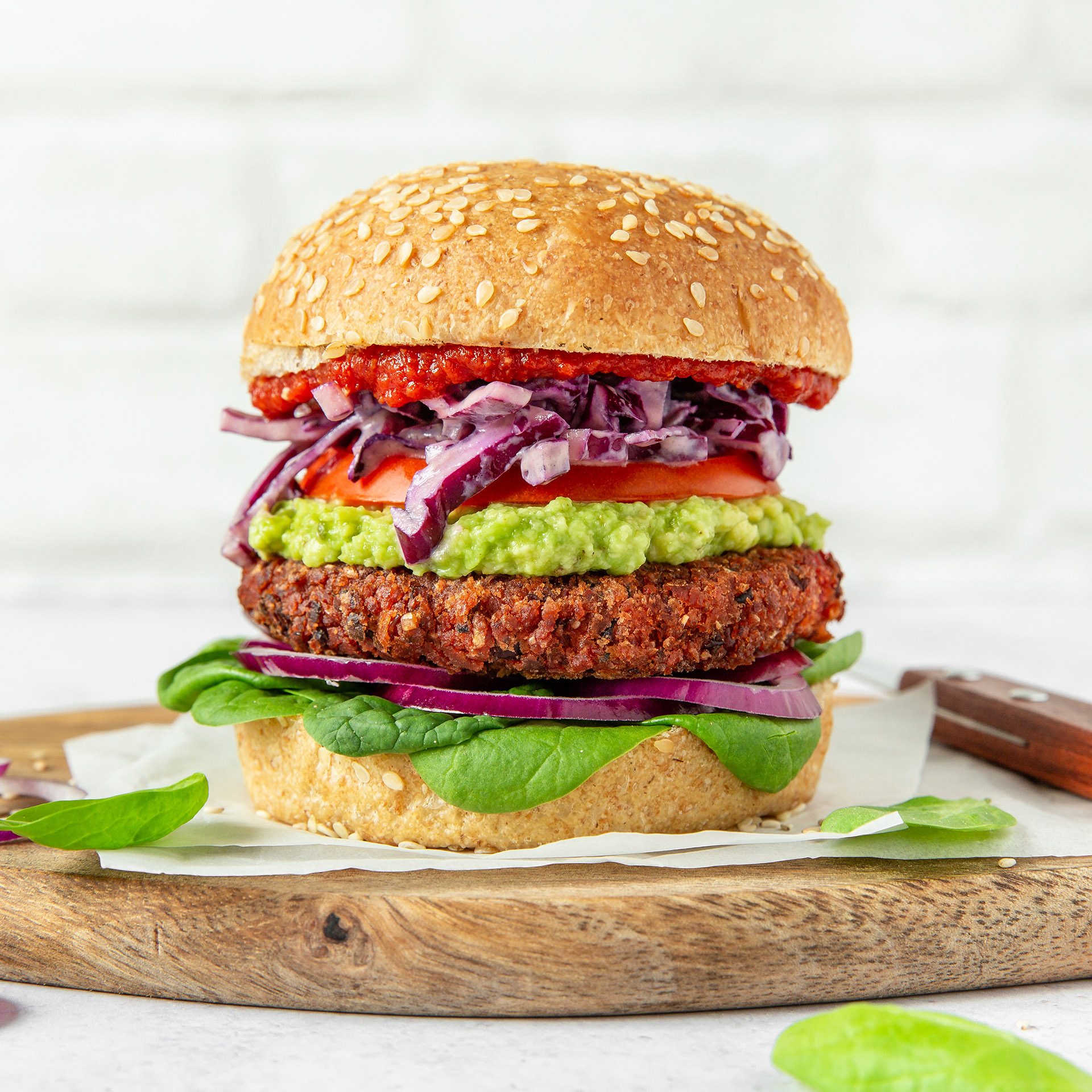 > PREPARATION:
Prepare the guacamole:
Place the avocado, lemon juice, cumin, salt and pepper in a flat-bottomed container and mash with a fork.
Prepare the coleslaw:
Wash and finely chop the red cabbage.
Mix the remaining ingredients in a bowl to form a thick vinaigrette.
Add chopped red cabbage and mix well.
Prepare the ketchup sauce:
Dissolve the sugar in the water by heating either 1 minute in the microwave or on the stove in a small saucepan.
Add the rest of the ingredients and mix well until a homogeneous sauce is obtained.
Assembly:
Cook the HARi&CO red bean patty in a little bit of oil.
Cut the bun in half and toast it quickly. Brush the inside of the bun with ketchup.
Assemble the burger with the baby spinach, onion slices, HARi&CO red bean patty, guacamole, a slice of tomato and the coleslaw.
Recipe by Alice Pagès
Enjoy your meal!