Preparation time: 20 minutes
Cooking time: 20 minutes
Servings: 4 servings, to share
> INGREDIENTS:
Cheesy sauce:
2 medium potatoes (250 g)
1 medium carrot (100 g)
1/3 cup raw cashews
1/4 cup plant-based milk
1 tbsp mustard
1 tbsp olive oil
2 tsp apple cider vinegar
2 tbsp nutritional yeast (optional)
1 tsp garlic powder
1 tsp onion powder
1/2 tsp paprika powder
1/4 tsp salt
Picco de gallo:
3 tomatoes
1 white onion
1 small bunch of fresh cilantro
1/4 cup corn kernels
2 tbsp lime juice
1/4 tsp salt
Guacamole:
1 avocado
1 tbsp lime juice
1/2 tsp ground coriander
1/4 tsp salt
Nacho plate:
1 bag of tortilla chips
1/2 jalapeno finely chopped
1 green onion chopped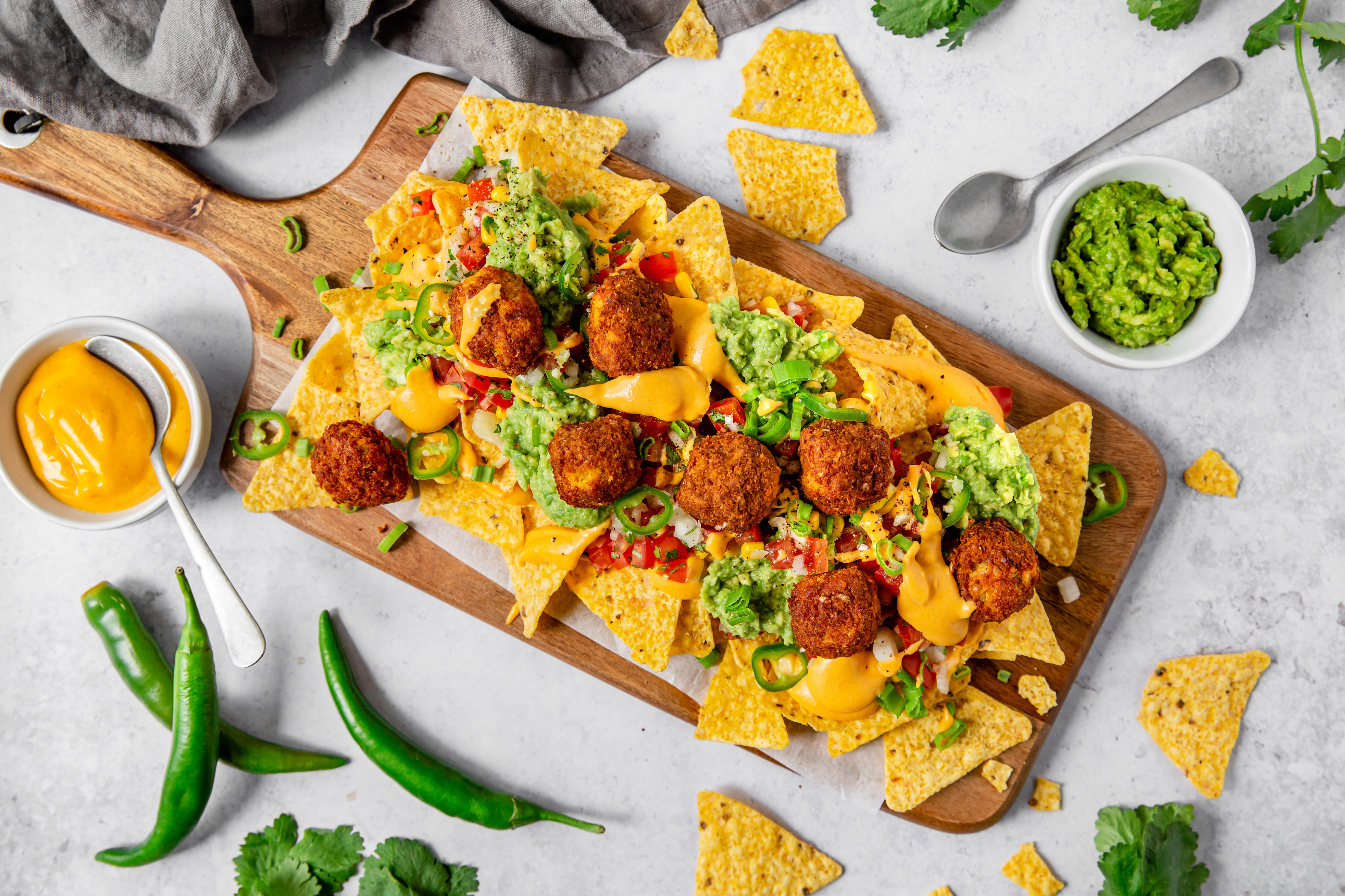 > INSTRUCTIONS:
Cheesy sauce:
Soak the cashews in hot water for 20 minutes until they are soften.
Peel and cut the potatoes and carrot into medium cubes and cook in a large pot of boiling water for 20 minutes until soft. Discard the water and place the cooked veggies in the bowl of a high speed blender.
Rinse and drain the cashews and add to the blender with all the remaining ingredients. Blend for at least 1 minute until perfectly smooth and creamy. If the sauce is too thick, add a little more milk until you get the right consistency. The sauce should be runny enough to be drizzled on the nachos but not too liquid. Set aside.
Picco de gallo:
Wash, core and dice the tomatoes into small cubes. Peel and finely dice the onion. Rinse and finely chop the cilantro.
Add the tomato, onion and cilantro to a bowl. Stir in the lime juice and salt and mix well to combine. For the best flavor, allow the mixture to marinate for 20 minutes in the fridge while you prepare the rest of the ingredients.
Guacamole:
Cut the avocado in half and carefully remove the pit. Scoop the flesh into a bowl and roughly mash using a fork. Add the lime juice, ground coriander and salt and mix well to combine.
Assembly:
Cook the HARi&CO chickpea balls in a non-sticky pan without oil.
We like to assemble the nachos on a large cutting board to share, but you can also use a big plate or a pan. Place down a layer of tortilla chips and drizzle half of the cheesy sauce. Then top with a healthy scoop of pico de gallo, guacamole and the HARi&CO chickpea balls. Pour the remaining cheesy sauce and garnish with chopped jalapeño and green onion.
Recipe by Alice Pagès
Enjoy your meal!