Preparation time: 15 minutes
Cooking time: 10 minutes
Quantity: 1 burger
> INGREDIENTS:
For grilled vegetables:
1/4 zucchini
1/4 red bell pepper
1 tbsp. olive oil
1 tsp. thyme
Salt, pepper
For the carrots:
1 small carrot
1 tsp. lemon juice
1 tsp. sesame oil
1/4 tsp. ground cumin
1 tsp. sesame seeds
1 small handful of raisins
A pinch of salt
For the curry sauce:
2 tbsp. of non-dairy yogurt
1 tsp. mustard
1/2 tsp. curry powder
1 tsp. maple syrup / agave / honey
A pinch of salt
For the burger:
1 burger bun
Fresh cilantro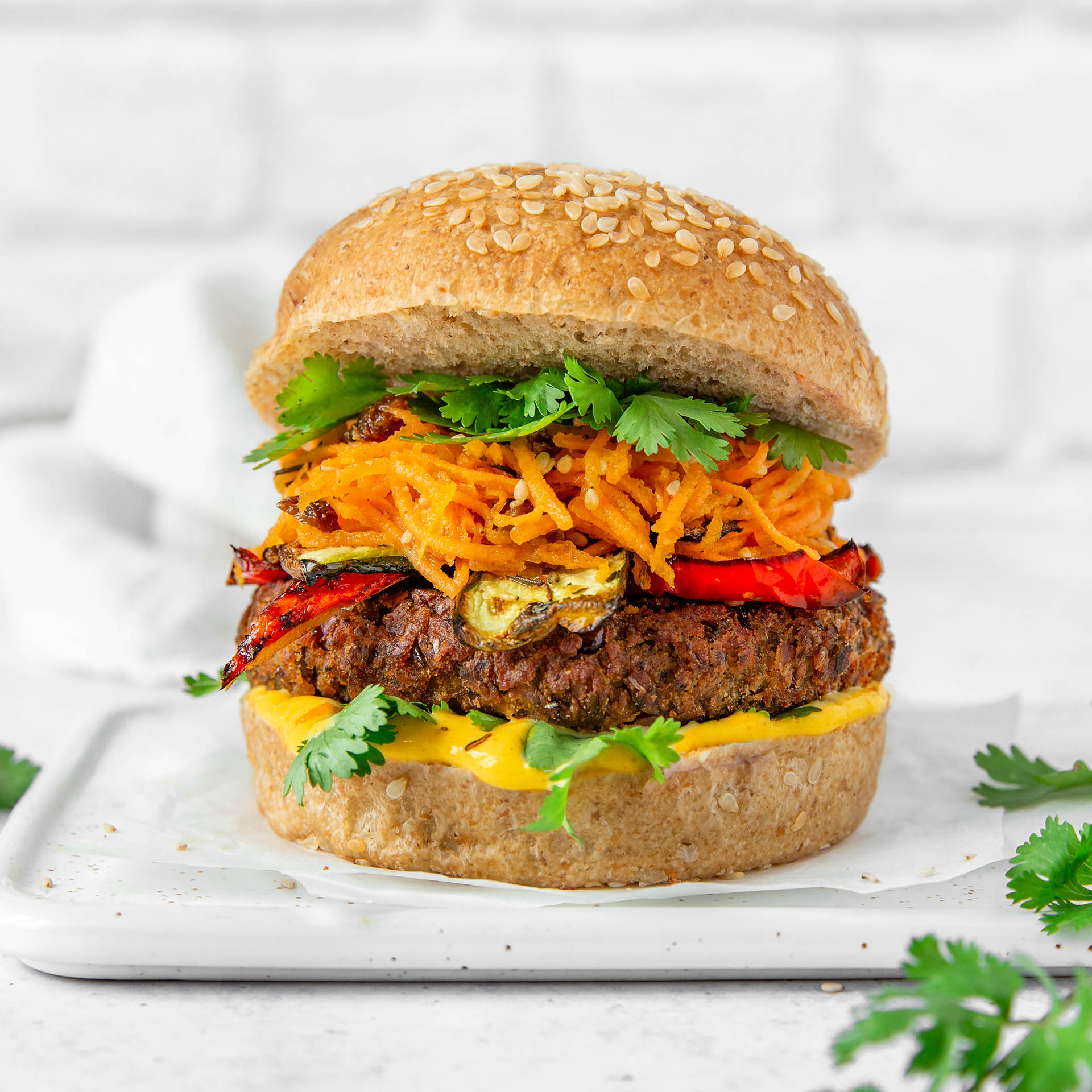 > PREPARATION:
Prepare the roasted vegetables:
Preheat the oven to 400°F.
Wash and slice the zucchini and bell pepper. Lay them flat on a baking sheet lined with parchment paper. Drizzle with olive oil and sprinkle with thyme, salt and pepper.
Roast for 10 minutes, flipping vegetables halfway through.
Prepare the carrots:
Peel and grate the carrot.
Add the remaining ingredients, add finely chopped raisins and mix well.
Prepare the curry sauce:
Mix all ingredients in a small bowl and stir until smooth.
Assembly:
Cook the HARi&CO Green Lentil Patty in a pan with a little bit of oil.
Cut the bun in half and toast it quickly.
Assemble the burger with the curry sauce, the HARi&CO Green Lentil Patty, the roasted vegetables, the grated carrots and a few fresh cilantro leaves on top.
Recipe by Alice Pagès
Enjoy your meal!