Preparation time: 20 minutes
Cooking time: 8 minutes
Quantity: 2 sandwiches
> INGREDIENTS:
For kale pesto:
30 g cashews
40 g kale
1 tbsp. olive oil
1 tbsp. nutritional yeast
1 tsp. lemon juice
1 tsp. garlic powder
1 pinch of salt
For the mushroom compote:
8 mushrooms
1/2 red onion
1 clove of garlic
1 tbsp. olive oil
2 tbsp. balsamic vinegar
Salt, pepper
For the sandwich:
4 slices of whole wheat bread
4 sun-dried tomatoes, chopped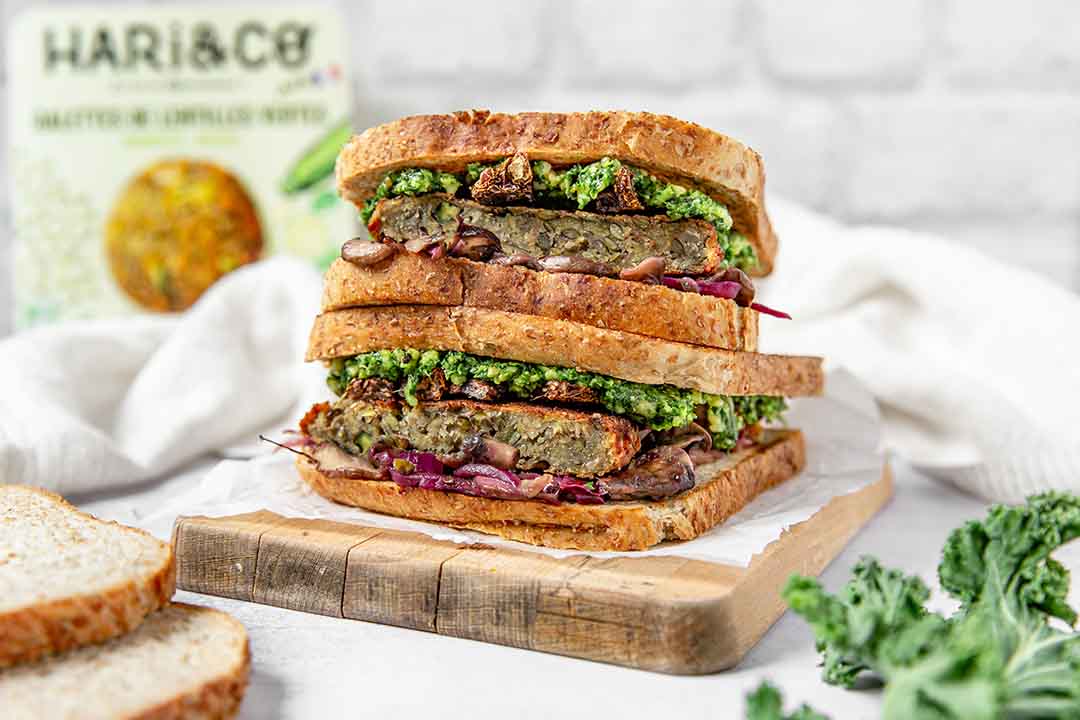 > PREPARATION:
Prepare the kale pesto:
Wash and coarsely chop kale leaves.
Place all the pesto ingredients in a blender and mix until you obtain a pesto-like texture. If necessary, blend in several batches, pausing to scrape down the sides of the blender.
Prepare the mushroom compote:
Wash and thinly slice the mushrooms. Finely chop the onion and garlic.
Heat the olive oil in a small saucepan and sauté the garlic and onion until lightly browned.
At this point, add the mushrooms, salt and pepper, and sauté for 5 minutes over medium-high heat for 4-5 minutes.
Deglaze with the balsamic vinegar and cook until all the liquid has evaporated. Then remove from the heat.
Assembly:
Brown the HARi&CO Green Lentil Patties in a dry pan.
Toast the slices of bread, either in a toaster or in a pan.
Assemble the sandwich. Spread kale pesto on a slice of bread, then top with chopped sun-dried tomatoes, a HARi&CO Green Lentil Patty, mushroom compote and another slice of bread.
Recipe by Alice Pagès
Enjoy your meal!