Preparation time: 10 minutes
Cooking time: 20 minutes
Quantity: 1 bowl
> INGREDIENTS:
For quinoa:
50 g dry quinoa
100 ml of water
1/2 tsp. ground turmeric
1/2 tsp. ground cumin
A pinch of salt
For the fried sweet potato:
1/2 sweet potato
1 tbsp. olive oil
Salt, pepper
For the sauce:
2 tbsp. almond butter
1 tbsp. soy sauce
1 tsp. lemon juice
1/2 tsp. garlic powder
1/4 tsp. ground ginger
For the bowl:
5 steamed broccoli florets
A few slices of raw beet
Fresh parsley
Sesame seeds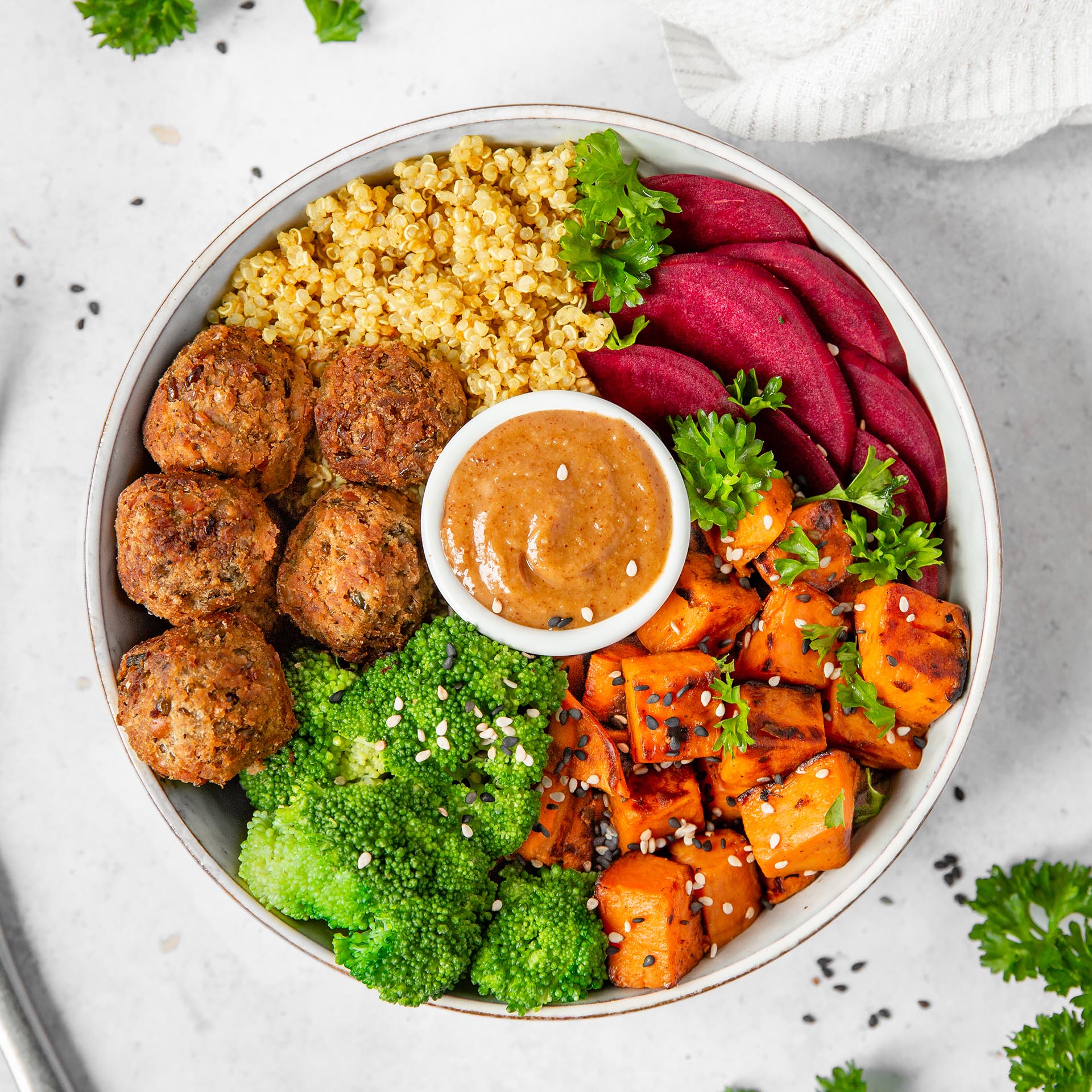 > PREPARATION:
Prepare the quinoa:
Rinse and drain the quinoa.
Place quinoa and water in a saucepan. Bring to a boil and reduce heat to low. Simmer for 12 minutes, remove from heat, cover and let expand for 5 minutes.
Add turmeric, cumin, salt and mix.
Prepare the fried sweet potato:
Peel the sweet potato and cut it into medium-sized cubes.
Heat the oil in a frying pan and sauté the sweet potato cubes for 5 minutes over high heat. Then reduce the heat to low, cover and cook slowly for 15 minutes. Add salt and pepper.
Prepare the sauce:
Mix all ingredients in a small bowl and stir until smooth.
Assembly:
Fry the HARi&CO Green Lentil Balls in a pan with a little bit of oil.
Arrange your bowl with the quinoa, fried sweet potato, HARi&CO green lentil balls, broccoli and a few slices of beet. Garnish with chopped fresh parsley and sesame seeds and serve with the sauce.
Recipe by Alice Pagès
Enjoy your meal!