Preparation time: 10 minutes
Cooking time: 10 minutes
Servings: 4 servings
> INGREDIENTS :
Waffles:
1 3/4 cup almond or soy milk
1 tsp apple cider vinegar
1/4 cup vegetable oil
1 tbsp maple syrup
2 cups all-purpose flour
2 tbsp ground flax seeds
2 tsp baking powder
1/4 tsp salt
2 tbsp minced rosemary
To serve:
2 tbsp minced fresh chive
Maple syrup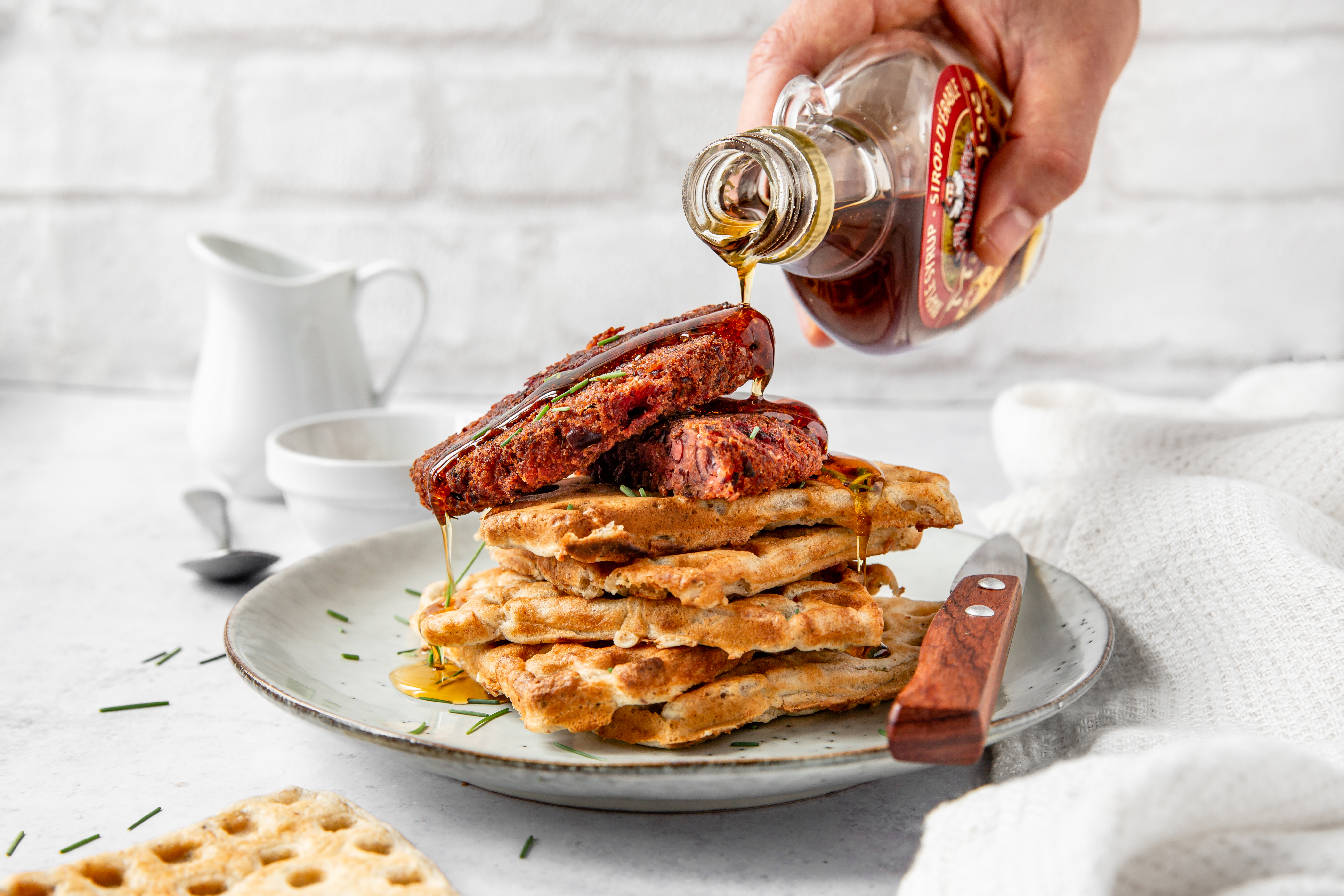 > INSTRUCTIONS :
Waffles:
Combine almond milk and vinegar in a small mixing bowl and let set for 3 minutes to curdle. Then add the vegetable oil and maple syrup and whisk to combine. Set aside.
Add the flour, ground flax seeds, baking powder, salt and rosemary in a large mixing bowl and whisk to combine. Then add the wet mixture to the dry and mix until just combined. The dough should be slightly thick and scoopable but not too runny. Let set for 10 minutes.
Heat a waffle iron or a waffle maker. Once hot, grease with non-stick spray or oil and pour about 1/2 cup of batter (depending on the size of your iron/waffle maker). Cook the waffles for about 2-3 minutes on each side or until they are golden brown. Then carefully remove from the iron/waffle maker and lay flat on a rack. Do not stack them!
Assembly:
Cook the HARi&CO red bean patties in a non-sticky pan without oil.
Serve the waffles still warm with sliced HARi&CO red bean patty, garnish with minced chive and generously drizzle with maple syrup.
Recipe by Alice Pagès
Enjoy your meal!