Preparation time: 20 minutes
Cooking time: 5 minutes
Quantity: 1 bowl
> INGREDIENTS:
For the cauliflower rice:
150 g raw cauliflower
50 g coconut milk
1/2 tsp. ground cumin
1/2 tsp. ground cinnamon
1/2 tsp. garlic powder
Salt and pepper
For the peanut sauce:
35 g peanut butter
2 tbsp. of water
1 tbsp. soy sauce
1 tsp. lemon juice
1 tsp. maple syrup
1/4 tsp. ground ginger
For the accompaniment:
100 g steamed broccoli
50 g raw red cabbage, chopped
1 grated carrot
1/4 apple, sliced
1 handful of raisins
1 tbsp. sesame seeds
1 tbsp. squash seeds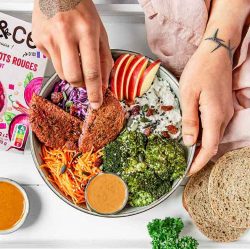 > PREPARATION:
Prepare the cauliflower rice:
Wash and dry the cauliflower. Cut the cauliflower into small florets and place them in a blender. Pulse until the florets resemble grains of rice. Do this in several batches so as not to over-mix, otherwise you will get a purée.
Heat a dry pan, then add the cauliflower rice, coconut milk, cumin, cinnamon, garlic powder, salt and pepper. Cook for 5 minutes over medium heat, stirring regularly, until the cauliflower is tender and the mixture is creamy.
Prepare the peanut sauce:
Place all ingredients in a small bowl and mix until smooth. If necessary, add a little bit of water to thin the sauce.
Assembly:
Cook the HARi&CO Red Bean Patty in a pan with a little bit of oil.
Grate the carrot, slice the apple and finely chop the red cabbage.
Arrange the cauliflower rice, broccoli, grated carrot, red cabbage, apple slices and HARi&CO Red Bean Patty in a large bowl. Garnish with raisins, sesame seeds and squash seeds and top with peanut sauce. It's ready to go!
Recipe by Alice Pagès
Enjoy your meal!