Preparation time : 10 minutes
Cook time : 20 minutes
Quantity : 1 serving
INGREDIENTS

:

For the rice :
1/2 cup of short-grain white rice
1/4 cup water
2 tsp rice vinegar
1 tsp sugar
For the poke bowl :
1/4 zucchini
/1/4 cup red cabbage
1/2 carrot
1/4 avocado
1/4 fresh mango
1 HARi&CO red beans burger
1 tsp lemon juice
1 tsp tamari
1 tsp sesame seeds
Fresh coriander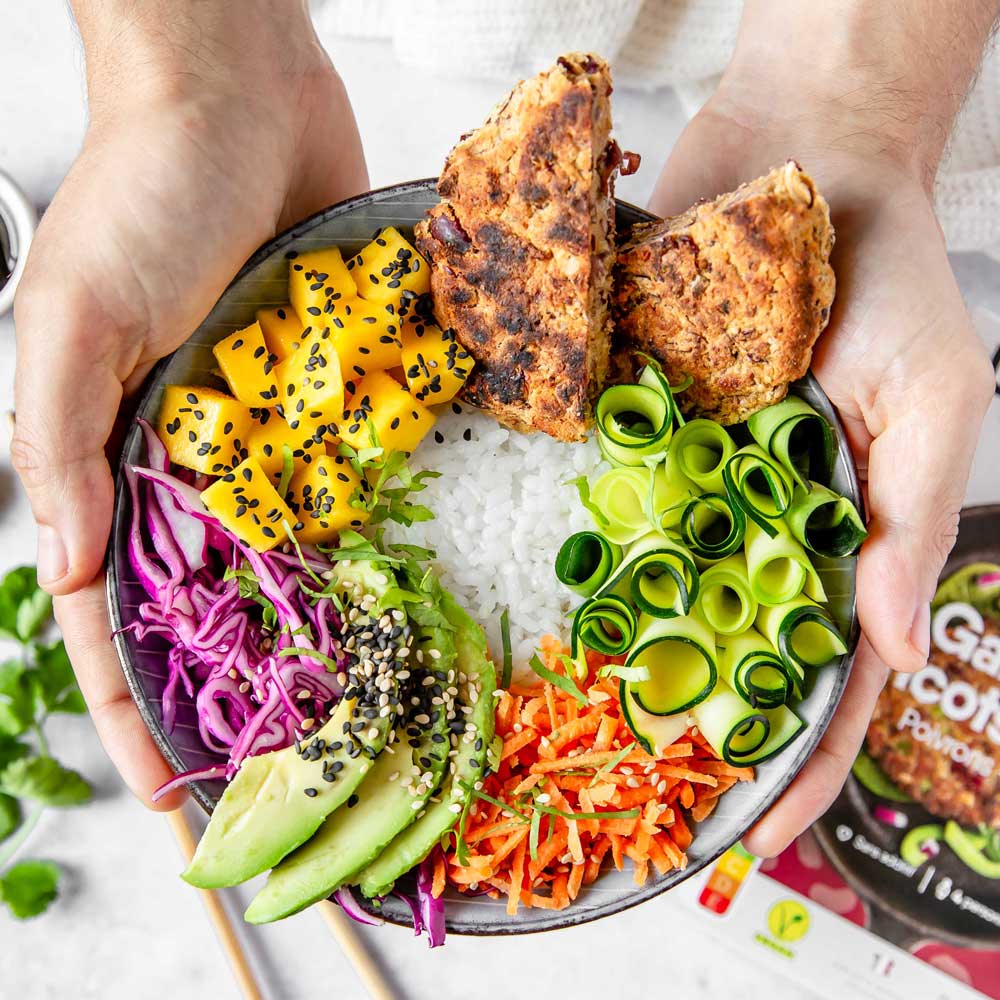 INSTRUCTIONS :
Prepare the rice :
Wash the rice under running water and drain. Place the rice and water in a saucepan, cover, bring to a boil and cook for 5 minutes. Then reduce to low heat, cover and cook for an additional 15 minutes. Remove from heat and let sit for 10 minutes lid on.
Dissolve the sugar in the rice vinegar and pour the mixture into the rice. Mix and set aside.
Assembly :
Cook the HARi&CO red beans burger according to the packaging instructions.
Wash all the veggies. Form zucchini ribbons using a peeler. Finely chop the red cabbage, shred the carrot, slice the avocado and cut the mango into medium dices.
Place the rice in a small bowl and press. Flip the bowl in the center of a serving plate to form a little dome. Garnish with the veggies all around and the halved HARi&CO red beans burger. Season with lemon juice and tamari. Garnish with sesame seeds and chopped coriander.